Mothers take 95% of the primary carers to leave and the birth of a child has little impact on fathers' employment, report says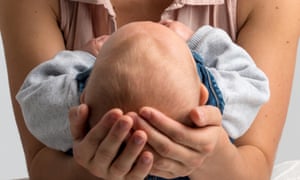 Mothers take 95% of the primary carers to leave in Australia, and a lack of legislated shared parental leave, traditional gender roles, and the gender pay gap are all working to prevent fathers from taking on the role, a report published on Tuesday says.
An analysis of Australian Bureau of Statistics employment and time-use data found that the birth of a child had little impact on the employment of fathers – just one in 20 fathers took primary parental leave, a low proportion by global standards.
This trend was seen most clearly when comparing time-use data for mothers and fathers, and contrasting this with their time-use in the year before they had their first child. "The number of hours fathers spend in employment remains at the same level before and after having children," the report found. "Fathers do spend time on parenting and childcare when they have young children, fitting this time around their hours of employment."
The analysis was conducted by the Australian Institute of Family Studies. The institute's senior research fellow, Dr. Jennifer Baxter, said mothers tended to be the primary carers of children under one, and fathers were more likely to become primary carers as children became older.
"What we often see when we are talking to families in research is that there is an assumption that the baby will come and the mother will take time off," Baxter said. "For some mums, it's a life desire but for others, it's a struggle to make it work. There's such a great diversity in views and wishes around these decisions and what we think is there isn't enough of a discussion between mothers and fathers to explore all of the options."
In an article published alongside the research, Parents At Work chief executive Emma Walsh said Australia did not have a nationally legislated approach to shared parental leave and as a result, fathers were often automatically labeled as secondary carers.
"Most employers provide limited parental leave for secondary carers if any at all," Walsh said.
"This divide is reinforced by entrenched social views of the breadwinner and homemaker gender ideals. Fathers are conscious of stigma and bias around taking extended leave, especially when they are unable to see many of their male colleagues taking leave."
This was despite extensive research that had demonstrated the benefits of fathers taking parental leave, including more equal distribution of unpaid care work, a better balance between work and family for both parents, and more opportunities for mothers to pursue their career with flexibility and purpose, Walsh said.
"Economically, shared parental leave is unequivocally good for business. The retention of talent and lower rates of staff turnover, resulting in lower recruitment and training costs, is a key reason some employers provide paid family leave."
Barbara Pocock, an emeritus professor with the University of South Australia's business school, has spent more than 30 years researching industrial relations, inequality, work and family, and pay equity.
She described the findings from the analysis as unsurprising.
"The public sector is still a very different and more flexible place in general than private companies, and that's why so many women turn to work in health and education," Pocock said. "There are also pockets in large private companies and small businesses were a combination of factors like a really good boss, having highly-valued skills, and being in a highly-profitable industry make it more likely that both women and men will be able to take more flexible parental leave arrangements."
She said 40% of workers also had some kind of caring responsibility, whether it be for parents or children. "All of that shock absorbing, or most of it, is done by women and it shows up in all data about who feels the most stressed and time poor," she said.
"Lots of people navigate towards holding it all together, which protects them from a front-on confrontation with the working cultures and ideas that are dominant. It is also true that a lot of men find being at home with children much more demanding than they expected."
As Australia has chosen…
… to return the Coalition to government, Guardian Australia's independent reporting is more important than ever. We will hold the Morrison government to account with fearless and fair journalism – delivering rigorous analysis and investigation. And we will keep reporting on the escalating climate emergency as a priority, searching for policy solutions, and exploring the costs of indefensible inaction. We will assess all policies robustly, and look together for the way forward with honesty and courage.
More people are reading and supporting our independent, investigative reporting than ever before. And unlike many news organizations, we have chosen an approach that allows us to keep our journalism accessible to all, regardless of where they live or what they can afford.
The Guardian is editorially independent, meaning we set our own agenda. Our journalism is free from commercial bias and not influenced by billionaire owners, politicians or shareholders. No one edits our editor. No one steers our opinion. This is important as it enables us to give a voice to those less heard, challenge the powerful and hold them to account. It's what makes us different to so many others in the media, at a time when factual, honest reporting is critical.
Every contribution we receive from readers like you, big or small, goes directly into funding our journalism. This support enables us to keep working as we do – but we must maintain and build on it for every year to come
source:https://www.theguardian.com/