More than three-quarters of Australians say having the skills to find a job is a top priority when determining who can move to the country.
New polling suggests a strong majority of Australians consider migrants' ability to get a job is much more important than their religion or country of origin.
An Essential Research poll, commissioned exclusively for SBS News, found three-quarters of respondents named "having skills and qualifications that will allow them to find a job" as a top three priority in determining whether someone should be allowed to move to Australia.
Of those, nearly a third-ranked it as the most important deciding factor out of eight criteria.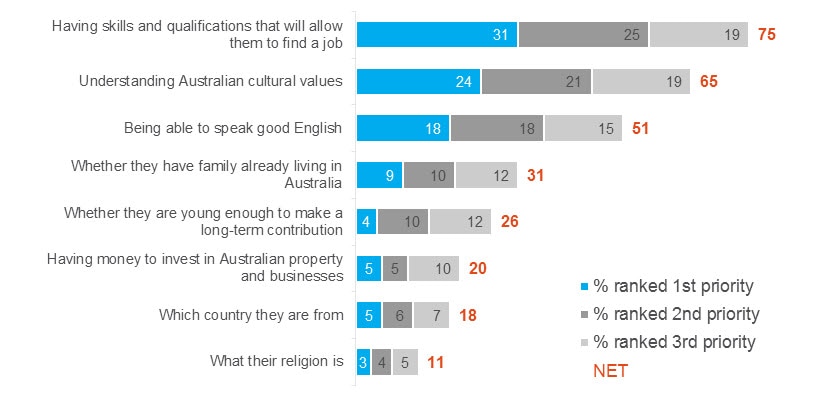 Essential Research
Understanding Australian cultural values and being able to speak good English were the next two most popular options, named as a top three priority for 65 percent and 51 percent of respondents respectively.
Nearly one in five surveyed believed being able to speak good English was the most important quality in new migrants. There were 1,079 people surveyed in the poll, conducted last week.Religion and country of origin were the least important issues with 18 percent naming where new migrants are from as a top three priority, and 11 percent saying religion mattered.
Religion no barrier
Inaz Janif from the Islamaphobia Network was surprised that most Australians don't consider religion an important factor in assessing who should come to Australia.
"I was told when I first applied for my first job that I could have it, as along as I stopped wearing a hijab… . Now I see religion is not so much a barrier – so it is heartening," she told SBS News.
SBS News
She also urged Australians to be open-minded when it comes to migrants' qualification levels."Skills and qualifications are important but also to keep in mind some people don't have that opportunity to develop them until their circumstances change."
Liberal MP for the NSW seat of Bennelong, John Alexander, was also relieved that most Australians did not consider religion an important factor."I'd hope that we wouldn't ever discriminate on the basis of religion," Mr. Alexander said.
He was one of several politicians speaking at an SBS forum in Parramatta on Tuesday. Immigration Minister David Coleman also attended the forum but declined to be interviewed by SBS News.
Labor's candidate for Banks, Chris Gambian, said there needed to be a "serious discussion" about the value and appropriate level of migration.
"We've got to bring in the right number, as determined by objective, smart people, who know what the right mix is for that particular time," Mr. Gambian said.
Immigration and integration
Another poll commissioned by SBS News last week showed a slight majority of Australians believed the country had benefited from immigration.
In July, then prime minister Malcolm Turnbull said the government was considering introducing a "values test" for permanent residency applicants in a bid to improve integration.
"One of the reasons we are is because we put an enormous amount of effort, in Australia, into integration, into ensuring that our form of multiculturalism is one where we can all benefit from the diversity of cultural and religious and ethnic backgrounds that Australians have," he said at the time.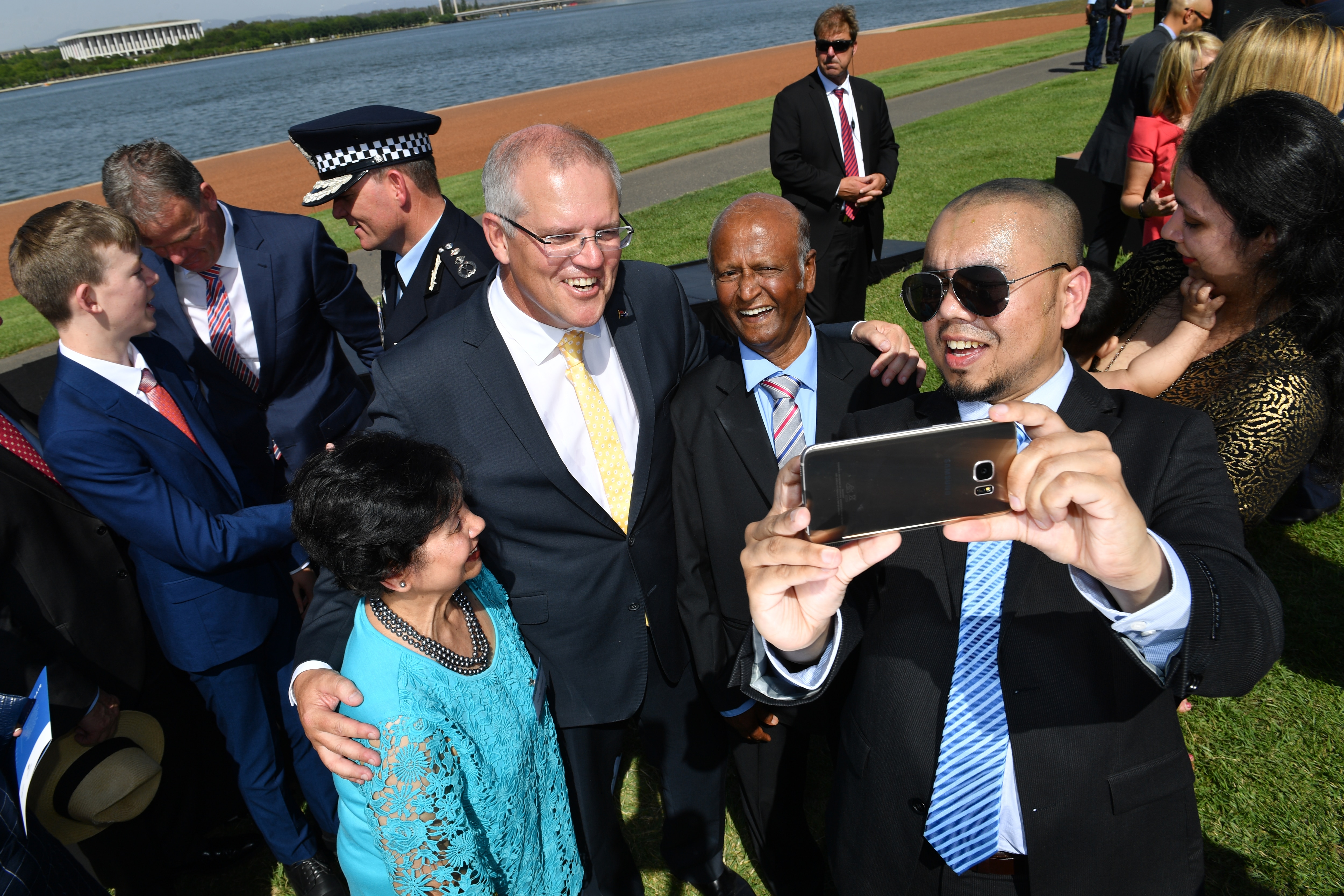 AAP
The idea was floated after the Senate rejected the government's proposed tough new citizenship requirements which would have required applicants to have lived in Australia for four years and pass an advanced English test.
In February, the government confirmed it would lower the cap on annual migration from 190,000 to 160,000 as part of its "congestion busting" policy.
The Opposition supported the change, which is in line with the real number of people granted permanent residency this financial year.
At the same time, the number of migrants on temporary visas has skyrocketed.
English skills 
The government has zeroed in on the issue of migrants being able to speak English in recent years, as debate about immigration continues.
Figures vary on the number of migrants who have poor language skills.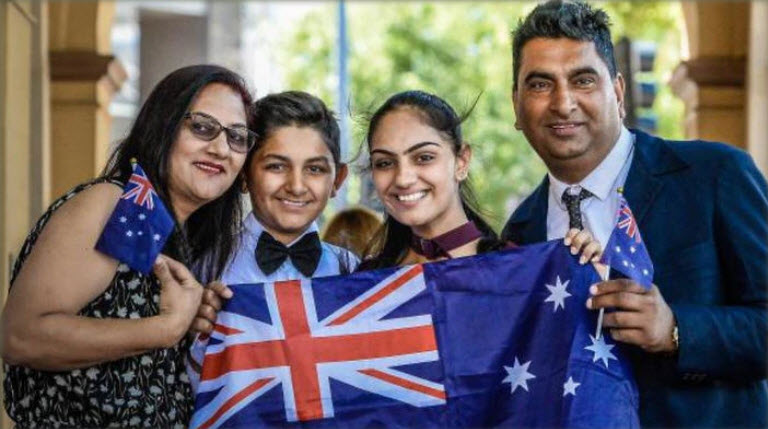 Supplied
In July, Population Minister Alan Tudge cited a "troubling decline" in English language skills as he outlined plans to create a custom English test for permanent residency applicants, not just citizens.
"What we are concerned about is that we have close to one million people now who don't speak the English language in Australia," Mr. Tudge told SBS News at the time.
He said the proportion of Australians who didn't speak English well or at all, had risen from 18.6 percent of new migrants in 2006 to more than a quarter a decade later.
But Macquarie University linguistics professor Ingrid Piller disputes that, putting the figure at closer to 16.6 percent in 2016.
The government already requires English skills for some migrants, but it depends on the visa. Those on skilled visas and student visas are already required to demonstrate language skills, but their spouses and families are not.
The family reunion scheme and the humanitarian scheme for refugees do not have English language requirements.
The government offers up to 510 hours of free English lessons for eligible migrants and humanitarian entrants with poor English when they arrive in Australia, but not all migrants take them up.
source:https://www.sbs.com.au